Inside the Book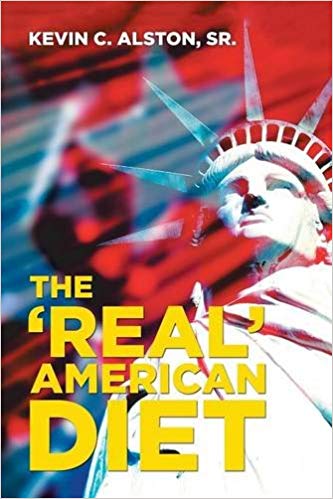 Title: THE 'REAL' AMERICAN DIET
Author: Kevin Alston
Publisher: Xlibris Publishing
Pages: 48
Genre: Memoir/Nonfiction
BOOK BLURB:
This book is a culmination of the author's life, but mainly the past 10 years, where personal tragedies have led him to discover more about the correlation with food, nutrition & the diseases of today, & how it affects us all.
This program is an experiment of sorts, with the author using himself as the guinea pig, with positive results having been discovered, & hopefully, in time, even bigger positive results yet to come.
Between our government & Big Business, we, the people, are already involved in an experiment. It's like a big laboratory. With all of the harmful toxins that are allowed in our air, food, & water, diseases are at epidemic-like levels, & the author, for one, would like to know if there is more to this than is being told to us. It speaks volumes when other nations refuse to accept grains & meats from us, or at least it does to the author.
Most of the ailments we suffer from today emanate from our guts, & our poor diets keep the sickness-wheels turning, costing each of us millions of dollars, a whole lot of heartache, pain, & suffering. It's time to make a change, & that change started with the author's experiment on himself.
ORDER YOUR COPY:

_____________________
Meet the Author
Born & raised in the small town of Mullins, SC, by God-fearing parents who instilled religion into his life at an early age, he's had an insatiable appetite for knowledge since birth. God blessed him with a keen, analytical mind, & an almost feverish desire to help others. He is a U.S. Air Force veteran, married to the love of his life, with five wonderful kids, & a deep passion that still burns within him to help the less fortunate, through whatever means necessary. The correlation between what we eat & the epidemic-like rise in diseases of today has the author on an impassioned mission to get to the bottom of what he thinks is a big conspiracy by our government & Big Business.
His latest book is
The 'Real' American Diet
.
Website Link:
http://diet4america.wix.com/real
,
https://youtu.be/sQ8LOeFoj68
Twitter Link:
https://twitter.com/kcasrkev1
Facebook Link:
http://facebook.com/kcasrkev
As a graduate psychology student I found the insight of this book interesting. I feel like the author's own experiment should be done again with more participants and publishes as a research study and published in academic journals. I really found some of the concepts to be very true!