Inside the Book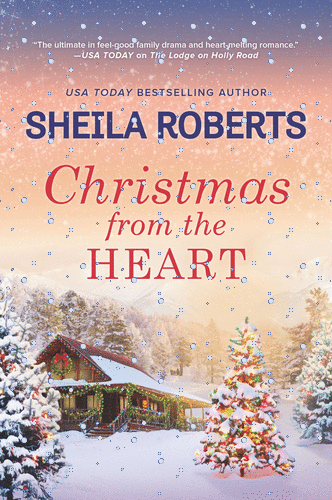 Title: CHRISTMAS FROM THE HEART
Author: Sheila Roberts
Publisher: MIRA
Pages: 304
Genre: Women's Fiction
BOOK BLURB:
Olivia Berg's charity, Christmas from the Heart, has helped generations of families in need in Pine River, Washington, but this year might be the end of the road. Hightower Enterprises, one of their biggest donors since way back when Olivia's grandmother ran the charity, has been taken over by Ebenezer Scrooge the Second, aka CFO Guy Hightower, and he's declared there will be no more money coming to Christmas from the Heart.
Guy is simply being practical. Hightower Enterprises needs to tighten its belt, and when you don't have money to spare, you don't have money to share. You'd think even the pushy Olivia Berg could understand that.
With charitable donations dwindling, Olivia's Christmas budget depends on Hightower's contribution. She's focused her whole life on helping this small town, even putting her love life on hold to support her mission.
When Guy's Maserati breaks down at the edge of the Cascade foothills, he's relieved to be rescued by a pretty young woman who drives him to the nearby town of Pine River. Until he realizes his rescuer is none other than Olivia Berg. What's a Scrooge to do? Plug his nose and eat fruitcake and hope she doesn't learn his true identity before he can get out of town. What could go wrong?
★★★★★ORDER YOUR COPY★★★★★
_____________________
Meet the Author
Best-selling author Sheila Roberts has seen her books published in a dozen different languages and made into movies for both the Hallmark and Lifetime channels. She's happily married and lives in the Pacific Northwest. When she's not hanging out with girlfriends, speaking to women's groups or going dancing with her husband she can be found writing about those things near and dear to women's hearts: family, friends, and chocolate.
★WEBSITE & SOCIAL LINKS★
________________________
My Review
__________________________
CHRISTMAS FROM THE HEART was an amazing Christmas book that really got me into the Christmas spirit. I have become quite the fan of Sheila Roberts' books, but its her Christmas books that have become my favorite and this one has become my favorite one so far!
I loved the way that Olivia and Guy met as it added a bit of mystery and suspense to the book without overshadowing the Christmas aspects of the book. I could not help, but love Olivia's character with her devotion to helping others and with her Christmas charity.