Inside the Book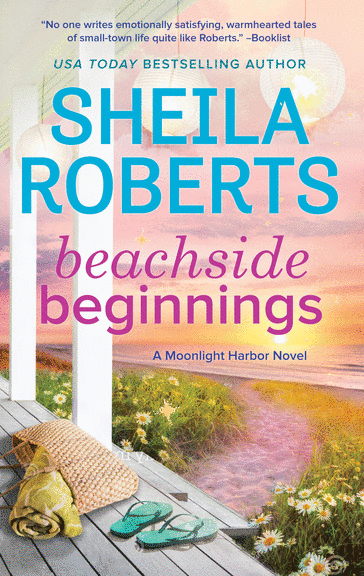 Title: BEACHSIDE BEGINNINGS
Author: Sheila Roberts
Publisher: MIRA
Pages: 384
Genre: Women's Fiction
BOOK BLURB:
Moira Wellman has always loved makeovers—helping women find their most beautiful selves. Funny how it's taken her five years with her abusive boyfriend, Lang, to realize she needs a life makeover. When Moira finally gets the courage to leave Lang, the beachside town of Moonlight Harbor is the perfect place to start over.
Soon Moira is right at home, working as a stylist at Waves Salon, making new friends, saving her clients from beauty blunders and helping the women of Moonlight Harbor find new confidence as well as new looks. When she meets a handsome police officer, she's more than willing to give him a free haircut. Maybe even her heart. But is she really ready for romance after Lang? And what if her new friend is in hot pursuit of that same cop? This is worse than a bad perm. Life surely can't get any more difficult. Or can it?
With all the heart and humor readers have come to expect from a Sheila Roberts novel, Beachside Beginnings is the story of one woman finding the courage to live her best life. And where better to live it than at the beach?
ORDER YOUR COPY
_____________________
Meet The Author
Best-selling author Sheila Roberts has seen her books published in a dozen different languages and made into movies for both the Hallmark and Lifetime channels. She's happily married and lives in the Pacific Northwest. When she's not hanging out with girlfriends, speaking to women's groups or going dancing with her husband she can be found writing about those things near and dear to women's hearts: family, friends, and chocolate.
WEBSITE & SOCIAL LINKS:
___________________________
I have to say I have become a big fan of this author and I have especially come to love her Moonlit Harbor books. BEACHSIDE BEGINNINGS was a great fit to the series and I really loved Moira Wellman and I was so glad to see her get away from her abuser and flourish on her own.