Inside the Audiobook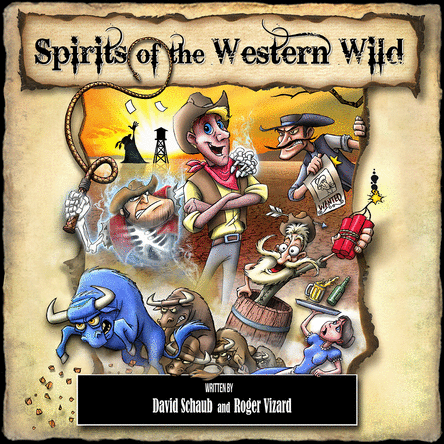 Title: Spirits of the Western Wild
Authors: David Schaub & Roger Vizard
Publisher: Independent
Genre: Adventure / Mystery / Comedy
This mystical adventure follows a young adventure-seeker named Luther McCleron on a westward journey to learn more about his Grandfather. A series of fateful missteps take Luther far from his destination to a disheveled little town under the tyranny of a crooked sheriff named Big Willie. It's here that Luther comes face-to-face with the legendary ghost of Monty: a curmudgeonly ghost who refuses to believe he's dead. Luther just wants to get back to his quest, but Monty thwarts his plans by using Luther to take out his vengeance on Big Willie.
Through a catastrophic string of events, Luther and Monty find themselves hopelessly entangled in a combative partnership that escalates to the breaking point. Only by reconciling their differences are they able to uncover the profound connections that weave their fates together.
A mysterious book of premonitions, an ominous crow, and ancient Indian drive the mystical tone of this world; conjuring spiritual forces to help steer Luther on his journey through this western "twilight zone."
All the loose ends resolve in a satisfying story of redemption, loyalty and ascension while exploring the mysterious nature of fate and destiny. Was all of this a coincidence? Or are we guided by ancient "spirits on the wind" that nudge and steer us along our path to assure that we arrive safely at our intended destination in the end?
5 out of 5 stars
A fantastic and Immersive adventure for everyone.
What a wonderful audio book and what a pleasure it was to be on this journey. Not only the adventure was captivating but also everything around it. The sounds effect and voices really bring it all together, you almost feel like you are right there witnessing all this first hand. The production quality is something I have never heard before. Very well done and I highly recommend it.
cLICK BELOw TO ORDER YOUR COPY!
_____________________
meet the authors
David Schaub is a writer and Academy Award ® nominated Animation Supervisor working in the film industry for more than 25 years. In 2019 he produced and directed the audio adaptation of SPIRITS OF THE WESTERN WILD. He also developed STORY COMPASS® smartphone app for screenwriters (www.moviemethods.com) in 2017.
Schaub received Oscar nomination for animation in Tim Burton's ALICE IN WONDERLAND (Disney), along with nominations for BAFTA Award, Saturn Award and Critic's Choice Award, and won the Golden Satellite Award for Best Visual Effects for his team's work on the film.
HEAD ANIMATION on Sony Picture's SURFS UP – recognized with two Annie Awards among its ten nominations including Academy Award nomination and four Visual Effects Society (VES) award nominations.
ANIMATION DIRECTOR on AMAZING SPIDERMAN 2 (2014), CHRONICLES OF NARNIA (Disney), I AM LEGEND (Warner Bros.) and LEAD ANIMATOR on STUART LITTLE 1 & 2, EVOLUTION, CAST AWAY, GODZILLA, PATCH ADAMS and more.
ANIMATION DIRECTOR – Universal's award-winning JURASSIC WORLD EXPEDITION (2019) VR EXPERIENCE. Exploring cinematic potential of virtual reality.
website & Social links
Roger Vizard is a writer and self-taught artist. He was accepted into the animation program at Sheridan College in1987, then worked at Sullivan Bluth Studios in Ireland, then as an animation apprentice on "WHO FRAMED ROGER RABBIT" at Richard Williams' studio in London. He later became Williams' assistant animator on "THIEF AND THE COBBLER."
After several years working in Europe at studios like Gerhard Hahn in Germany and A-films in Denmark, he moved to Los Angeles in 1993 to work as a story board artist on the first season of Sonic the Hedgehog, then rolled back into animation again after that. He successfully made the transition to from 2D to CGI on "STUART LITTLE 2" in 2001, and since that time have worked non-stop at animation/VFX studios in Los Angeles.
website
__________________________________________________
Spirits of the Western Wild was a great audio book that was an enjoyable listen. The narration was well done and the story moved at a good pace. I really liked Luther McCleron as he made a great main character!