Inside the Book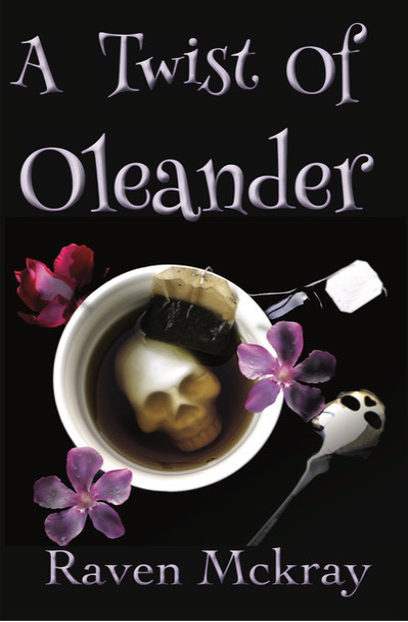 Title: A TWIST OF OLEANDER
Author: Raven McKray
Publisher: Keystone, Imprint of Brownridge Publishing
Pages: 204
Genre: Cozy Mystery / Romantic Suspense / Detective Fiction
BOOK BLURB:
An escape from madness leads to murder …
After suffering a manic episode, twenty-six-year old Maddie Malone retreats to small-town Kenowa and her aunt and uncle's cattle ranch for peace and restoration. But things are never quiet for long in Maddie's world: She finds her heart torn between her childhood sweetheart and a suave older man. Then tragedy strikes: Maddie's uncle is found dead; poisoned by a cup of oleander tea. The police think its suicide. Maddie knows its murder. Now it's up to her to prove it.
PRAISE:
"This is a well-plotted cozy mystery, and you do a great job casting plausible suspicion on all of the main characters so that the big reveal during the climax is satisfyingly unexpected and exciting."–Kindle Scout Editorial Review 2018
ORDER YOUR COPY AT —> AMAZON
_____________________
Meet the Author

Raven McKray lives in
Ontario
,
Canada
. She received her master's degree in English Literature from
Carleton
University
and has a degree in Education from the
University
of
Ottawa
. Her first novel, "Under A Fairy Moon," written under the pseudonym "T. M. Wallace" won the Gelett Burgess Children's Book Award (Fantasy) and the Canadian Christian Writer's Award (Young Adult Fiction) in 2012. "A Twist of Oleander" is her first mystery novel for adults, and the first book in the Maddie Malone Mystery series.
WEBSITE & SOCIAL LINKS:
__________________________________________________
A Twist of Oleander made for a cozy sort of mystery that I enjoyed reading in bed. I really liked Maddie as she made a great main character and her determination made her feel like a real person. I enjoyed reading of her journey through mystery and romance.