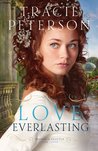 Love Everlasting
by
Tracie Peterson
My rating:
3 of 5 stars
Romance is really not my cup of tea, but I did want to give this book a try because I was interested in the historical accuracy of the book. I was happy to find that it was mostly correct there were a few spots that were a little off, but not that much. The women were just more independent than they actually were at that time. I enjoyed reading of the struggles with love and marriage vs idealism. While this was not my typical book I did enjoy it.
View my full review at:
http://misty103.hubpages.com/hub/Love...
I was sent this book for free for only a honest review.
View all my reviews